---



Extended wear (EW) contact lenses are lenses you can wear overnight for up to 30 days. Many people prefer the convenience of extended wear contacts over daily wear (DW) contacts because it allows them to wake up with clear vision. The U.S. FDA designates which contacts are optimized for extended wear by evaluating efficacy and safety of materials used to make extended wear contact lenses. The primary differences between extended wear and daily wear contacts is that EW contacts contain silicone hydrogel and are thinner than DW contacts. Silicone hydrogel allows oxygen to easily reach the eye, specifically the cornea, to help improve overall eye and vision health. Brands of EW contact lenses offered at our Houston and Katy vision centers are FDA approved for seven and 30-day extended wear.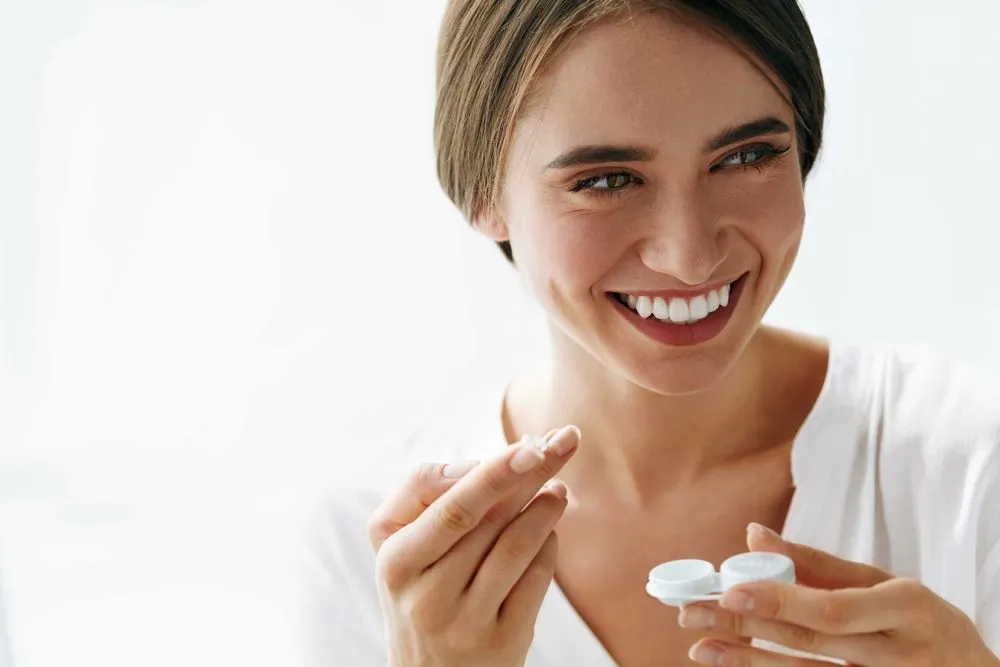 Benefits of Extended Wear Contacts
Extended wear contact lenses correct refractive errors such as nearsightedness, farsightedness and astigmatism and cost about the same as eyeglasses. In addition, since EW contacts cover the part of your eye involved in forwarding and peripheral vision, you will enjoy an unobstructed vision field without the annoying blurriness of eyeglass frames noticeable at your periphery when wearing glasses.
Additional advantages to wearing extended wear contacts include:
Being able to see clearly as soon as you wake up--no more stumbling around and searching for eyeglasses
Going frameless means no sore ears, nose dents, crooked frames or adjusting glasses every five minutes
Moving from cold to warmer conditions without having to wipe off foggy eyeglass lenses
Wearing stylish sunglasses or protective eyewear anytime you want without compromising your vision
Avoiding the need to purchase new eyeglasses when they get scratched, lost or damaged
Wearing EW contacts also means you don't have to take them out every night and clean them. This is especially important for people with busy, active lifestyles who just want to go to bed at night without worrying about maintaining their daily wear contacts.
What are the Risks of Extended Wear Contacts?
Eye infections can occur with EW contacts because bacteria may become trapped between your eyes and lenses. Since bacteria thrive in moist, warm conditions, the environment under extended wear contacts provides optimal growth conditions for infectious bacteria. Pink eye is a common eye infection diagnosed by your Houston and Katy optometrists in people wearing EW contacts. The most effective way to reduce the risk of eye infections while wearing EW lenses is to discard lenses according to your eye doctor's instructions. Wearing EW contacts longer than prescribed increases the risk of bacterial eye infections and corneal abrasion.
Types of Extended Wear Contacts Provided by Your Katy and Houston Optometrists
Multi-focal EW Contacts
In addition to single focal and bifocal EW contacts, EyeSite Texas also offers multi-focal extended wear contacts to optimize your ability to see clearly at all distance levels. Unlike bifocal lenses that separate prescriptions for correcting nearsightedness and farsightedness, multi-focal extended wear contacts allow a more gradual transition between prescriptions. Usually prescribed to people diagnosed with presbyopia, multi-focal contacts can significantly improve vision for reading, computer work and driving while enhancing your peripheral vision. In addition, multifocal contact lenses are available in rigid gas permeable or soft lens materials designed for either extended wear or one-day disposable wear. Extended wear multifocal contact lenses require cleaning while disposable lenses need no care since they are worn only once and then thrown away.
Continuous Wear Contacts
Continuous wear contact lenses can be worn without taking them out for as long as 30 days and nights. CW contacts do not feel as dry as traditional soft contacts and involve no daily cleaning or removing. Due to continuous wear contacts having a proprietary molecular structure to the lenses, oxygen, and water pass freely through the lenses to the cornea to optimize eye health and eliminate "sticky" eyes.
Brands of Extended Wear Contacts
EyeSite Texas offers the following extended wear brands of contacts:
Acuvue
Air Optix
Alcon
Bausch and Lomb
Bioinfinity
CooperVision
Proclear
Multifocal Duette
Ciba Vision
If you are interested in learning more about extended wear contacts, please call your Katy or Houston optometrist today to schedule a consultation and eye exam appointment. Katy residents call (281) 644-2010. Houston residents call (713) 984-9144.